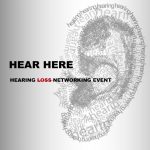 Hear Here London Social Network for Professionals
The first ever Hear Here social networking event for professionals with a hearing loss was held recently in London.  Brainchild of Jaspreet Bahra, Senior Audiologist at Harley Street Hearing.  Jaz explained "I realised many of our patients did not know anyone else in the capital who also had a hearing loss and I wanted to bring professionals together to share their experiences in a busy workplace with their common bond".

Hear Here was held at Shearman & Sterling HQ on Thursday 17th November.
Actress Genevieve Barr & Harley Street Hearing client Warren Stapley shared their experiences to the captive crowd of over 90 attendees.
Paul Checkley, Clinical Director at Harley Street Hearing, said "We were genuinely blown away by the amount of people who came along, we're so pleased we've brought together so many like-minded professional people for this bonding network.  We were overwhelmed by the feedback and this will definitely be a regular event "
A huge thank you to everyone who came along, as well as Warren Stapley and Shearman & Sterling for hosting the event, assistance from Action on Hearing Loss and BSL Signer Ezekwesiri Ani.
If you're a professional working in London with a hearing loss and want to join the evolving Hear Here social network please contact us
---
Harley Street Hearing are London's leading independent hearing clinics and are the most successful Lyric Centre worldwide. Established for 25 years, all our staff are highly skilled audiological practitioners who are trained in healthcare provision.  As we are registered with the Health Professions Council, we can accept self-referrals, or referrals direct from your GP or from Ear, Nose and Throat specialists across the UK.  So whether you want advice on hearing loss or protection call 020 7486 1053 or click here to email us.